Record amount of Bitcoins in the hands of long-term investors
BTC HODLers currently hold 78% of the total available supply in circulation.
According to recent on-chain data, long-term holders (LTH) of Bitcoin currently hold 78% of the total supply in circulation, which is the highest value in history. LTHs are often referred to as the "diamond hands" in the cryptocurrency king market as they tend to hold their coins dormant for longer periods than individual investors. Meanwhile, the BTC/USD exchange rate oscillates around USD 23,370 over the weekend.
Bitcoin: Short-Term Holders (STH) account for only 22% of the supply
Recent analysis suggests that there has been a growing shift towards a HODL mentality among Bitcoin investors, as shown in the "percentage of tokens in young vs old wallets" chart below. An interesting fact is that the percentage of the total BTC supply held by LTH has only been growing for several years.
– The discrepancy between long-term holders and short-term holders is currently the largest in the entire history of Bitcoin. Short-term holders (STH) account for only 22% of the total BTC supply and include all investors who have purchased coins in the last six months, the analyst wrote in the Todayq report.
Although a brief reversal of this trend was seen after the collapse of the FTX cryptocurrency exchange, long-term holders regained the upper hand and supply began to grow again. This latest accumulation has pushed the LTH up to 78%, making the selling pressure from most supply less than ever before.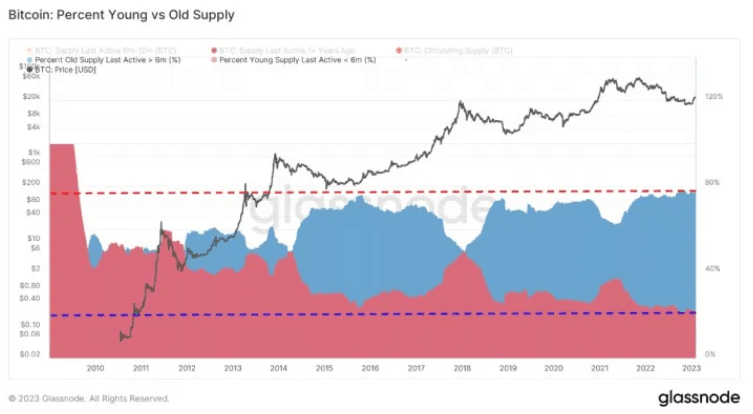 The percentage of young vs old supply chart, a key indicator in the Bitcoin market, shows the trend in the amount of total supply in circulation held by long-term holders (LTH) and short-term holders (STH).
According to the analyst, such a supply shock in the market may favor the price of Bitcoin in the long run.
"This means selling pressure from most supply should now be at its lowest on record as it looks like it will remain dormant for quite some time with LTH," he adds.
In conclusion, the data shows that the HODLer mentality is becoming more and more popular among Bitcoin investors, with long-term holders currently holding the majority of the supply. This could potentially lead to a bullish BTC market in the near future.