Litecoin has finally woken up, popular trader John Bollinger said
The financier drew attention to the last LTC rally.
The price of one of the oldest altcoins - Litecoin - has increased by 3.7% in the last 24 hours. Thus, LTC is currently trading at almost $78 on the world's largest exchange Binance. This situation drew the attention of well-known trader John Bollinger, who stated on Twitter that Litecoin "woke up".
Litecoin is rising again
As reported by U.Today, Litecoin recently experienced a significant rally over the past week. Large addresses have already amassed LTC totaling over $40 million in just two weeks.
Moreover, in early November this year, Texas-based money transfer giant MoneyGram allowed its customers to buy and sell this popular altcoin on its mobile app. As it turned out later, this was another factor that significantly contributed to the increase in the price of the virtual currency.
Altcoin supporters were completely unconcerned by the recent high-profile collapse of the FTX cryptocurrency exchange, which was the main reason for the recent fall in LTC quotations. Litecoin's rally also drew the attention of trader John Bollinger, who stated that Litecoin "woke up".
As a result of the recent rally, Litecoin managed to overtake the digital meme coin Shiba Inu (SHIB) in terms of market capitalization and thus climbed to 13th place.
Last month, Bollinger also pointed to a short squeeze on the Litecoin chart. As we can see in the chart below, the LTC/USD rate has recently left the consolidation zone (marked in blue) between the $43 - $73 levels, where it has been around since mid-May 2022.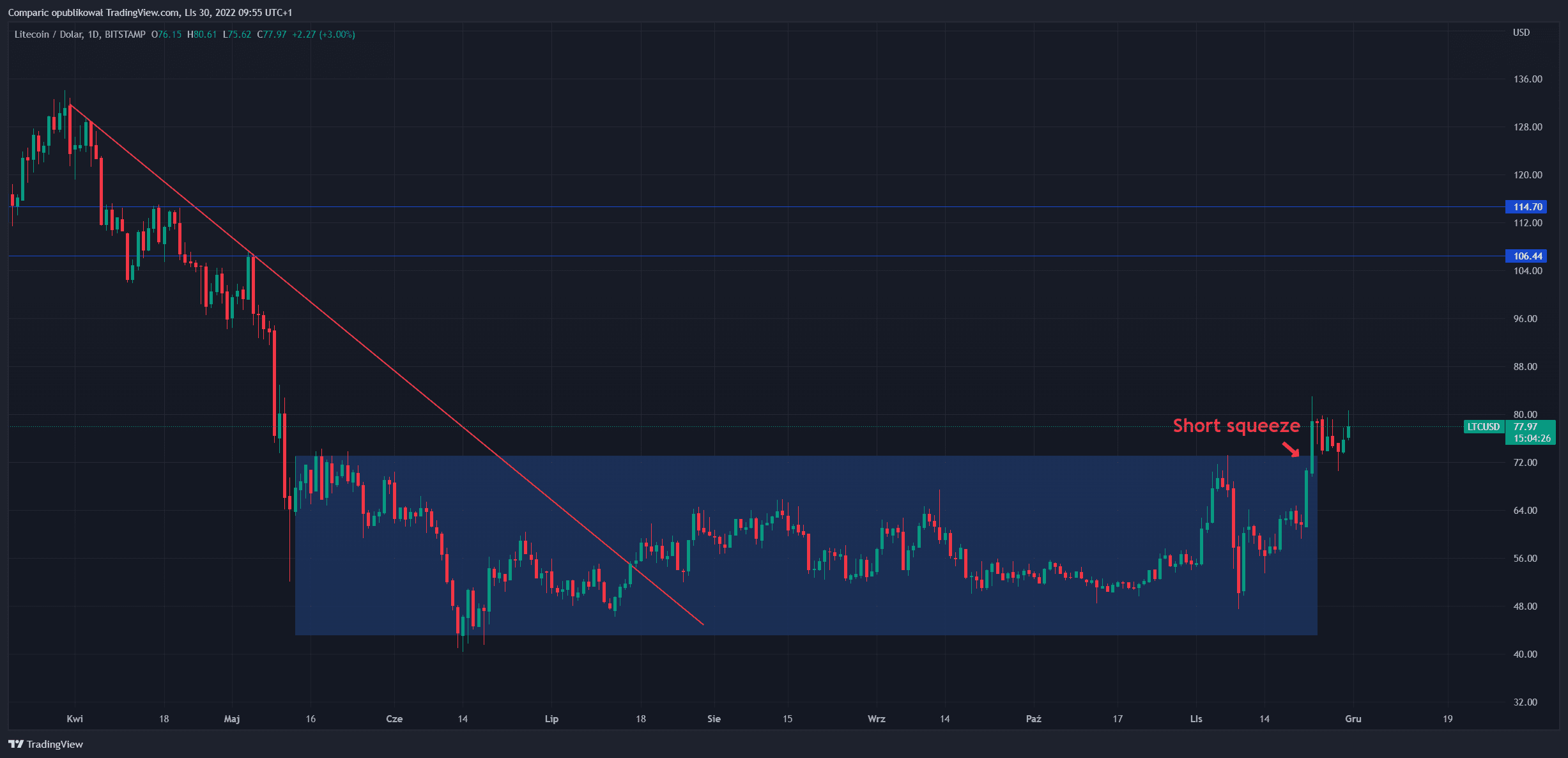 Source: TradingView Litecoin quotes, daily chart
The last short squeeze therefore contributed to breaking the consolidation zone and attempting to test the $80 round psychological barrier. During today's session, the cryptocurrency rate stabilizes and moves around $ 78 per coin.
Despite the fact that Litecoin has generally performed better than the rest of the cryptocurrency sector in recent weeks, it is still more than 80% below its ATH of $410.26, which was reached last year.