How will halving affect the price of Bitcoin (BTC)?
Historically, halving has always contributed to the increase in Bitcoin's price.
Recent data shows that the halving event has historically always had a positive impact on the price of Bitcoin (BTC), thus contributing to the appreciation of the king of cryptocurrencies. The analytics firm Glassnode recently posted on its Twitter account that BTC's Realized Cap has been steadily increasing over the last few halving events that have occurred in BTC's past. In addition, the current cycle of halving rewards to working miners has attracted $282.8 billion in capital to the Bitcoin market, up 200% from the previous cycle.
Bitcoin price outlook in the face of the next halving
Nevertheless, research firm Glassnode noted that every halving in the past has seen diminishing returns, with the current cycle seeing only a 362% expansion. It is worth noting that this represents a significant drop compared to the previous cycle, which saw a return of 1917%. Although the BTC price has recently managed to increase by 0.31% over the previous 24 hours, the weekly BTC price result remains red and stalled at -7.24%.
Currently, the price of Bitcoin is consolidating at USD 26,850 at the time of writing this publication. In addition, the level of resistance at the $27,000 line still prevents the oldest cryptocurrency from reaching new highs.
– Even so, Bitcoin still has a significant chance of breaking above $27,000 in the next 48 hours. This is because it is trading above line 9 of the EMA on the 4-hour chart. Moreover, the RSI line on the 4-hour chart was trading above the SMA RSI line. All of this adds a lot of credibility to the short-term bullish outlook on the BTC chart," Steven Walgenbach, an analyst at Coinedition, wrote.
However, it is worth not losing sight of the fact that the BTC price may currently be susceptible to sudden drops or increases, because it is a market that is very dynamic. For this reason, it is important for investors and traders to carefully conduct their analyzes and closely follow market movements in order to make the best investment decisions as a result.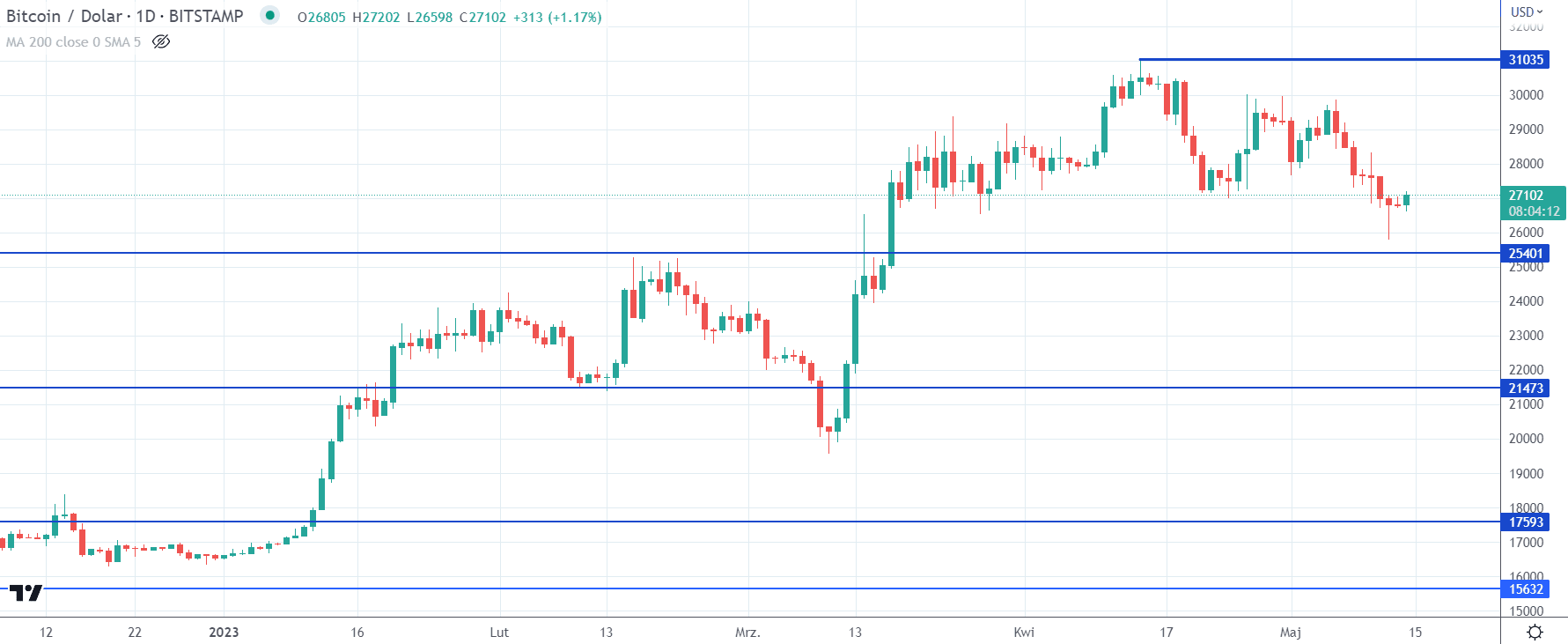 BTCUSD daily rate, tradingview