Cryptocurrencies have become the second most owned asset class by women
The eToro study presents the latest data on investing in digital assets.
While cryptocurrencies were one of the worst performing asset classes in the last year, the number of global investors holding digital currencies has increased from 36% to 39% quarterly, according to the latest report published by eToro.
Cryptocurrencies are becoming more and more popular among women
As eToro's "Retail Investor Beat" study highlights, while traditional asset classes do not encourage wider adoption among women, cryptocurrencies appear to have been successful in this regard.
Data sent to Cointelegraph by the eToro team highlighted that cryptocurrencies are now the second most-owned asset class by women, after cash. 10,000 global retail investors in 13 countries participated in the survey conducted by the company.
The data shows that female cryptocurrency ownership has increased from 29% in the third quarter of 2022 to 34% in the last quarter. According to the eToro team, this suggests that cryptocurrencies are "succeeding where traditional financial markets fail," which is by attracting more women.
While the adoption of digital assets among women gained a significantly increased pace in the last quarter of 2022, also in the case of men, the data indicate a continuation of the growing positive trend, as we can see in the chart above.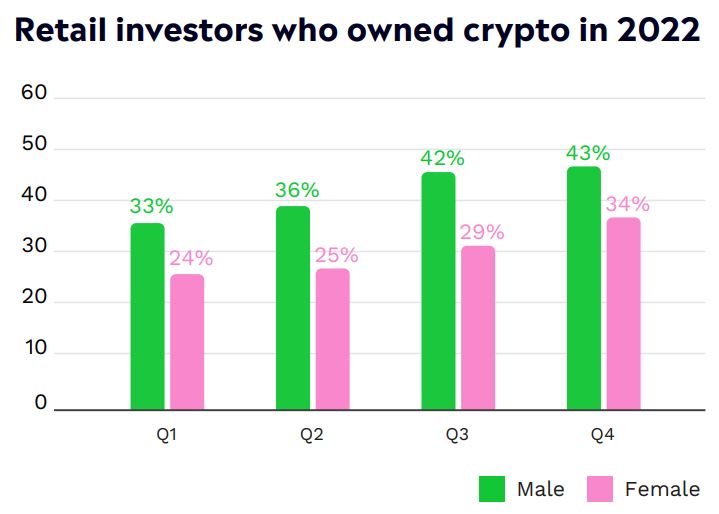 Retail investors who held cryptocurrencies in 2022, Source: eToro
Although cryptocurrencies were named the worst performing asset class last year, the overall number of global investors holding digital currencies has increased from 36% to 39% on a quarterly basis.
The data was also influenced by older investors, who mainly opened positions at the lows. The number of retail investors aged 35-44 and 45-54 who own cryptocurrencies increased by 5% in each segment, suggesting that older investors are also hoarding digital assets.
As for why more investors are starting to take an interest in the cryptocurrency industry, 37% of survey participants said they take advantage of high-yield opportunities, while 34% said they believe in the power of blockchain and believe that cryptocurrencies are a revolutionary asset class.
In addition to retail investors voicing their faith in blockchain technology, businesses are also starting to follow this trend. On January 12, Casper Labs stated after a survey of 603 enterprises that already 90% of them are somehow connected to the blockchain.