Bitfinex owns 60% of Tethers deposited on exchanges
Most USDT tokens are currently on one platform.
Despite the prevailing fear and slump in the cryptocurrency market, as well as a massive outflow of digital assets from exchanges, the USDT stablecoin on the Bitfinex platform reached a new all-time high on November 29.
Bitfinex is the leader in stored USDT tokens on exchanges
It is estimated that currently there is a total of about $ 18 billion on cryptocurrency exchanges in the form of the largest stablecoin in terms of market capitalization, i.e. USDT. The Bitfinex cryptocurrency platform leads among such exchanges and accounts for about 60% of the total supply of this stablecoin deposited on all exchanges in total.
For comparison, the world's largest cryptocurrency exchange - Binance - until recently also held a significant amount of USDT. Until recently, deposits of this stablecoin on the Binance exchange were valued at around $5.5 billion, although the company decided to exchange 50% of this amount for BUSD.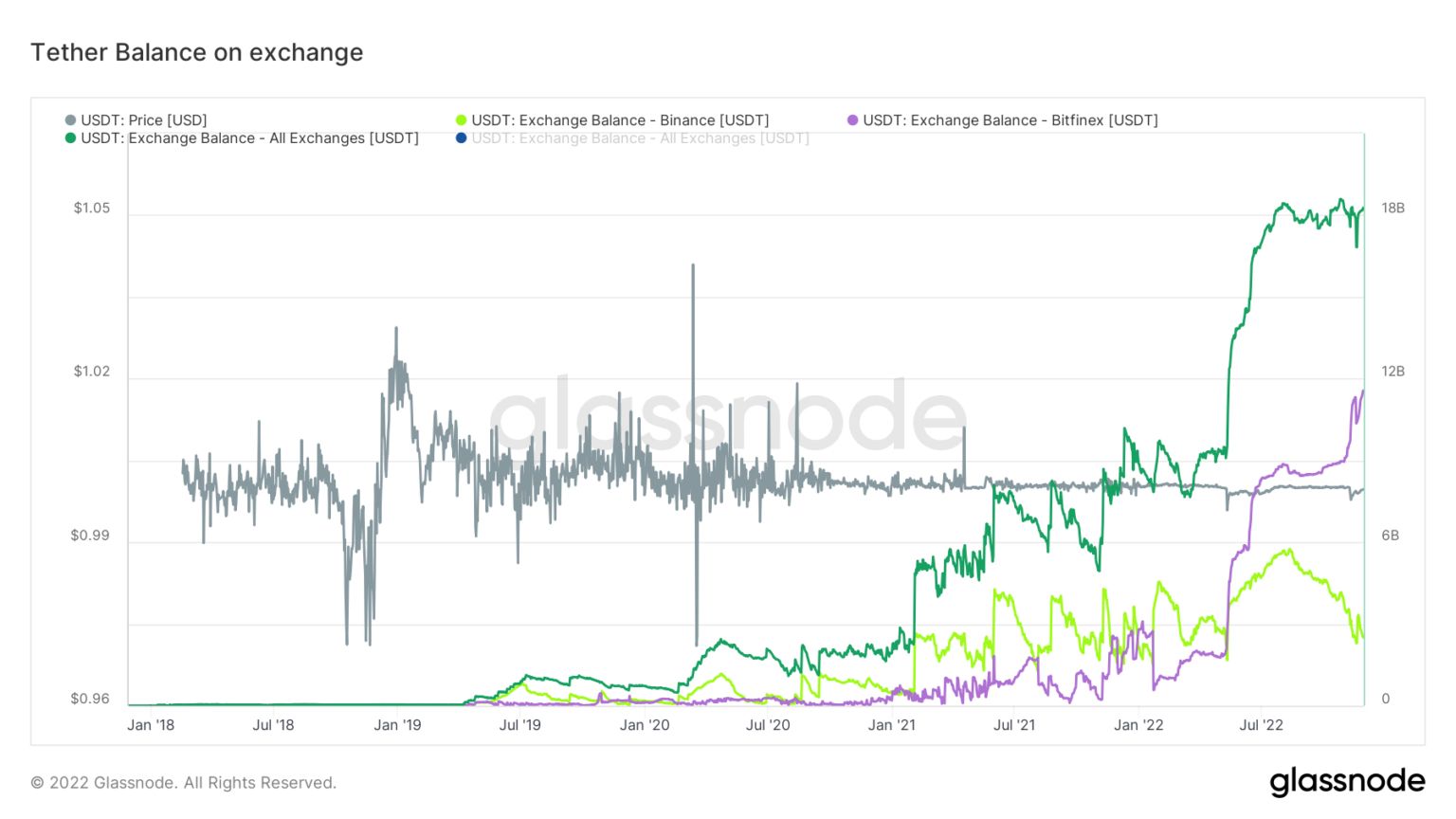 USDT exchange balances held by Tether. Source: Glassnode
The prevailing cryptocurrency winter and market turmoil caused by the giant collapse of FTX negatively affected the market capitalization of all stablecoins except Binance USD.
According to data from Glassnode, the value of the stablecoin from Binance (BUSD) in terms of volume on exchanges remains at $ 20 billion. In comparison, the Crypto.com cryptocurrency platform holds $50 million of the total supply of BUSD.
BUSD exchange balance. Source: Glassnode
According to analysts of the cryptocurrency sector, the current inflows of stablecoins to trading platforms are a short-term catalyst for the course of other cryptocurrencies.
What's more, the fear and uncertainty among investors about keeping their funds on stock exchanges makes more and more people look for the safest platform that they could use in case of need. Consequently, the increased inflow of such digital assets as stablecoins to Bitfinex may be a positive sign of the return of capital to this popular exchange, which has struggled with numerous problems in the past.