Bitcoin Surges: Bitcoin's price hit $30,000! BTC at a 10-month high
The oldest cryptocurrency is currently experiencing an intense increase in value
On April 11, the Bitcoin exchange rate broke the psychological threshold of $ 30,000 for one coin. This means that the oldest cryptocurrency has returned to the level that we last observed in June 2022. Thus, BTC set a new record in 2023.
The bulls are back in the BTC market
This week greeted us with a breath of warm wind and more sunshine than we have had the opportunity to experience recently. Spring can be seen not only outside the window, but also on the digital currency market. Bitcoin consistently continues its price rally, which began with the new year. On April 11, the price of the oldest cryptocurrency finally reached the long-awaited level of $ 30,000.
The last time BTC passed from hand to hand at this price was on June 10, 2022, i.e. 10 months ago. Importantly, Bitcoin has recorded a jump in value by over 33% in the last 30 days.
Bitcoin surges as investors await US CPI report and Fed's inflation response
What influenced the current valuation of this digital asset? Many cryptocurrency market analysts say that the recent surge is due to investors' anticipation for the latest US Consumer Price Index (CPI) report for last month. This is due to the fact that these data will set the direction of the US Federal Reserve's actions in the fight against inflation.
The mood in the Bitcoin market has been extremely bullish for a long time. At the moment, the Fear and Greed Index shows a score of 68, which means that we are currently moving strongly into "Greed" territory.
The above-mentioned indicator already at the stage of March 21, 2023 was at the level of 68. These data meant a new record for this indicator. Moreover, the last time we could experience a similar level (66 to be exact) was on November 16, 2021, when BTC recorded its current ATH of $69,000.
At the time of writing this publication, the Bitcoin exchange rate is $30,031. This means a jump in the value of this cryptocurrency asset by as much as 6% within a day, i.e. a return to the levels from exactly a week ago. As mentioned above, in just a month, the oldest cryptocurrency gained in value by as much as 33.25%.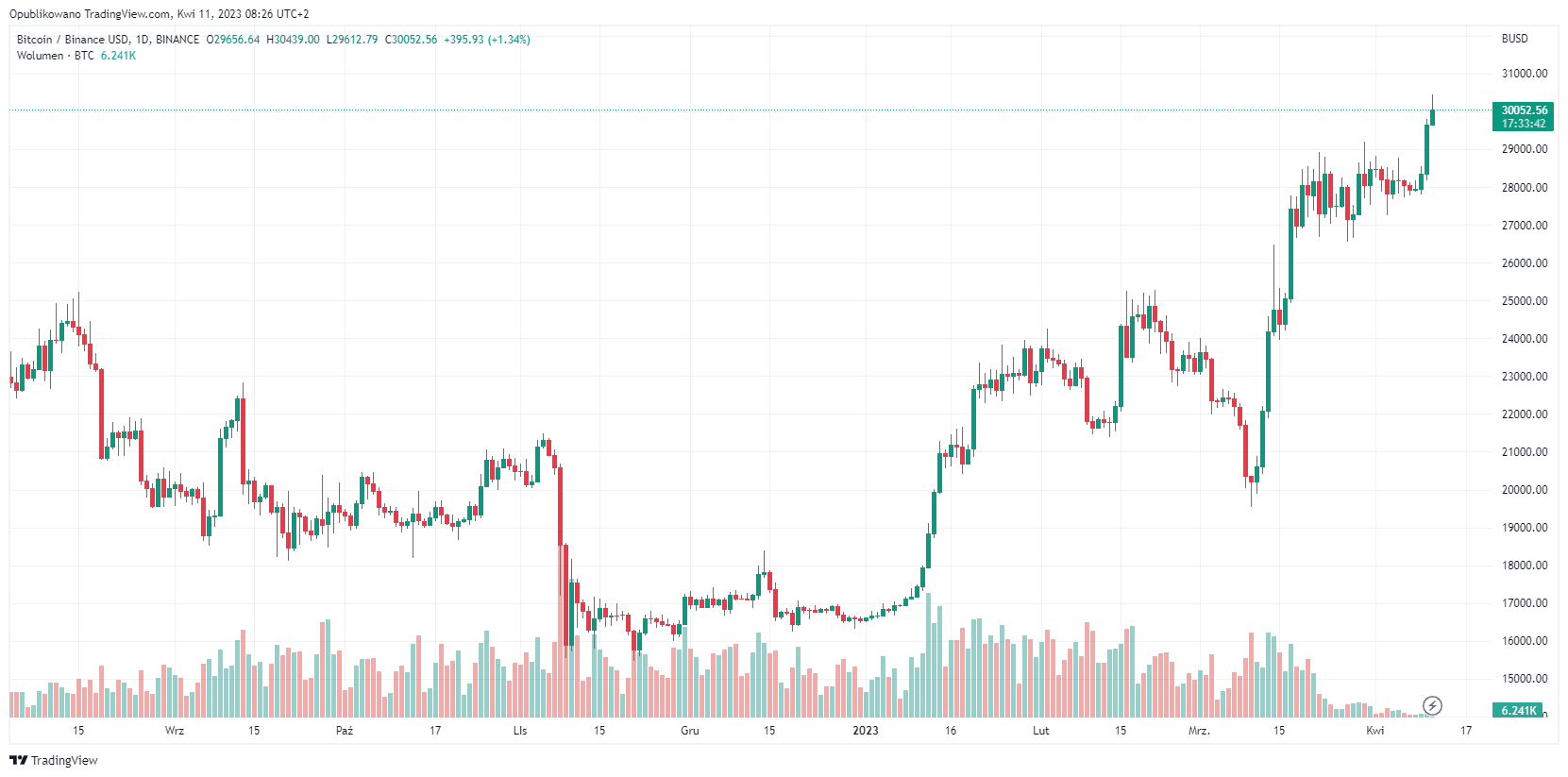 BTC/BUSD price chart. Source: TradingView