Bitcoin is waiting for one piece of good news and could start a bull run, says Arthur Hayes
The potential increase in the price of the oldest cryptocurrency
In a recent blog post, former BitMEX CEO Arthur Hayes stated that Bitcoin has probably already bottomed out, and that FTX's collapse completed the process that began with the UST crash. He also claims that most centralized cryptocurrency lenders are already underwater, yet the market is still afloat.
A weakened Bitcoin is waiting for inflation to drop
According to Hayes, the market is already tired of the ongoing sell-off, and those who needed to liquidate their reserves have already done so. In turn, the rest of the companies are sitting in anticipation of an improvement in global sentiment, which should come along with the Fed's easing of monetary policy.
Unfortunately, today's PPI reading showed that in November producer inflation turned out to be higher than expected, which is a bad signal for risky assets and another argument in the hands of the Fed for delaying the pivot.
While price pressure is slowing down, it is happening more slowly than expected, with today's PPI reading at 7.4%. y/y and 6.2% y/y for the baseline, with estimates of 7.2% y/y and 5.9% y/y.
This immediately raised concerns that inflation was falling too slowly to expect a sudden change in monetary policy from the Fed (the cycle of hikes would end in Q1). However, the market did not react as nervously, which shows that the CPI data, which will be released on Tuesday, December 13, are much more important for the markets.
Arthur Hayes, however, still hopes that the US Federal Reserve will have to change its tone to dovish monetary policy in order to stabilize the market in the approaching 2023 and not bring the economy to its knees.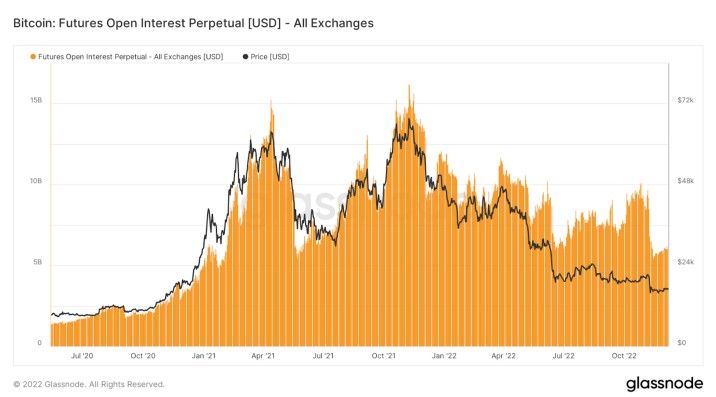 Source: Glassnode
Hayes also noted that BTC open interest has fallen to its lowest level since early 2021, and the situation could worsen further if the BTC price continues to consolidate.