Bitcoin is not benefiting from the US regulatory tech trend
The US does not provide a proper legal environment for the digital currency sector.
Analyzes of experts related to the digital currency market indicate that the crypto sector does not benefit in any way from the increases in the Nasdaq index grouping American technology companies. There is no doubt that the current regulatory fashion is related to the subject of AI and related technologies, not cryptocurrencies. The topic of the cryptocurrency asset segment has faded into the shadows after the recently observed rebound in the shares of regional banks in the US. Expectations regarding the policy of the Fed also ended with a big disappointment. The American agency kept interest rates high for a very long period of time, which led to stagnation in the growth of major cryptocurrencies.
Analysis of the situation on the Bitcoin chart
The BTC futures chart broke a support level at $26,800 per coin a few days ago, which may indicate a downward slide in the digital currency market. Some industry experts related to the analysis of crypto quotes believe that in such a situation the uptrend line at USD 23,500, which lasts from the November low, may be important.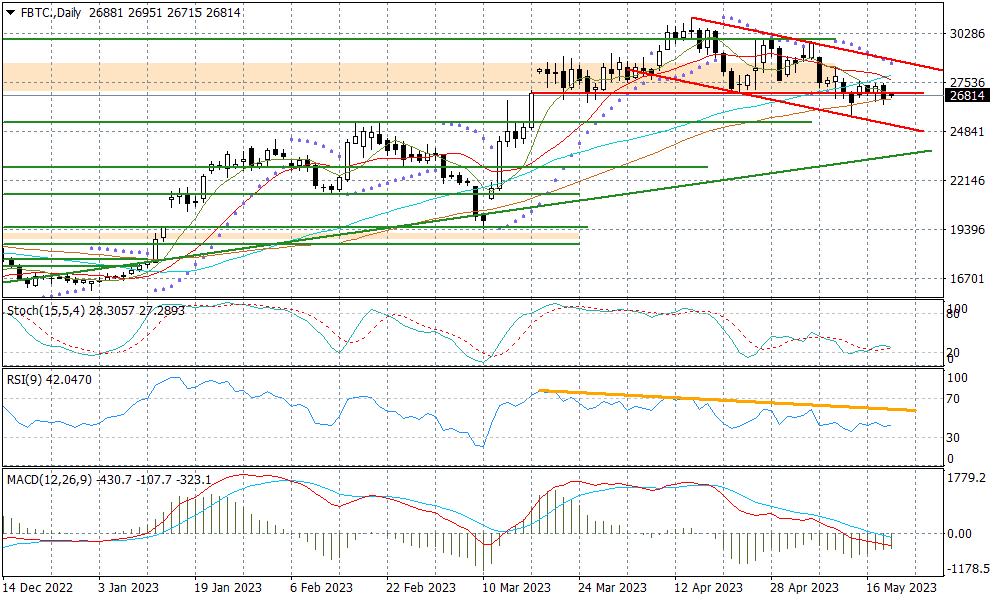 FBTC daily chart